WHAT 

CAN

GO IN YOUR GARDEN ORGANICS BIN
Grass Clippings

Prunings

All Weeds

Leaves

Flowers

Plants
Bark

Sticks & Small Branches (max. diameter 10 cm)

Roots (max.  diameter 10cm)

Palm Fronds
WHAT 

CAN NOT

GO IN YOUR GARDEN ORGANICS BIN;
Plastic Bags

Bin Liners

Garbage

Food Waste / Vegetable Peelings


Recyclables

Oils or Chemicals
Pots

Soil and Rocks

Bricks & Building Materials

Treated / Painted Timber

Composite Wood products ie chipboard, melamine, MDF

Garden Organics 'GO" bins containing material we do not accept may not be emptied until the problem has been removed.
Households with severe or repeated incidents of contamination will have the garden organics service suspended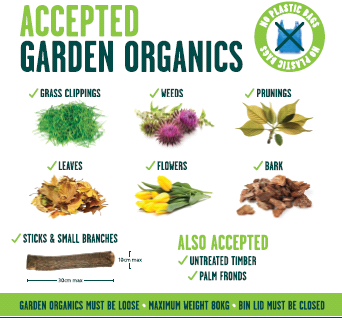 TIPS FOR MAKING THE MOST OUT OF YOUR GARDEN ORGANICS SERVICE
Place materials loosely in your bin – don't squash your garden organics down.

Put sticks or dry leaves in the bottom of the bin before lawn clippings to prevent sticking.

The maximum weight is 80 Kg.

Place bins out regularly rather than wait for them to be full and possibly too heavy.

Try to mow your lawn when its dry or leave the lid ajar to reduce excess moisture.


You can drop off large items that don't fit into your garden organics bin at one of the following local waste management facilities (fees apply):
Mt Vincent Road Waste
Management Centre
109 Mt Vincent Road

EAST MAITLAND
Singleton Waste Management Facility
Dyrring Road
Cessnock Waste Management
Centre
1967 Old Maitland Rd
CESSNOCK

This project was supported by the Environmental Trust as part of the NSW EPA's Waste Less, Recycle More initiative, funded from the waste levy.